Posted: Friday, January 19, 2018 11:24 AM
---
Lights, Camera, Action!
Whether you are just looking to learn or are serious about acting in film & TV, Actors Workshop Studios is the place for you.
ACTORS WORKSHOP STUDIOS is the only studio in San Diego that provides the A-Z of breaking into the film and television industry. We have a fully equipped Studio with a 3-Camera Set to provide on-camera training in acting, audition techniques and industry knowledge.
THE COACHING STAFF consists of working actors with over 50 years of combined experience in all aspects of film and television acting, coaching, directing, casting and producing.
To promote our talent, we hold in-house auditions and workshops with top Hollywood and San Diego producers, casting directors and agents.
Classes for all skill levels and ages - Adults and Kids.
Enjoy the following:
* Craft of Acting For Film, TV & Commercials
* Fully Equipped Studio / 3-Camera Set
* On-Camera Auditioning
* Cold Reading Audition Skills
* Improvisation & Monologues
* Personal Development (self-confidence, public speaking, memory & concentration)
* Personalized Coaching
* Lots of FUN!
For more information, call 858-587-6666.
Or take a tour of the Studio and allow us to learn more about your goals and answer any questions you may have.
You may Schedule an Appointment to Visit our Studio on our website at:
www.ActorsWorkshopStudios.net/appointment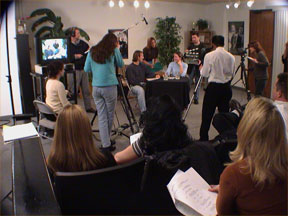 • Location: San Diego

• Post ID: 19256359 sandiego