Report Ad
Check out the NEW Westside Cafe in Escondido!
Posted: Wednesday, May 22, 2013 12:32 AM
---
Reply: click here
Westside Cafe is back in Escondido Under New Management with a NEW Menu, New Style, New Staff and Better taste than ever! People are talking and the word is spreading! Come in and see which Coffee Mug you get (it's different every time)! Be sure and try the Eggplant Chile-Relleno Torta, Huevos Rancheros, Spanish Burger or Spanish Omelet!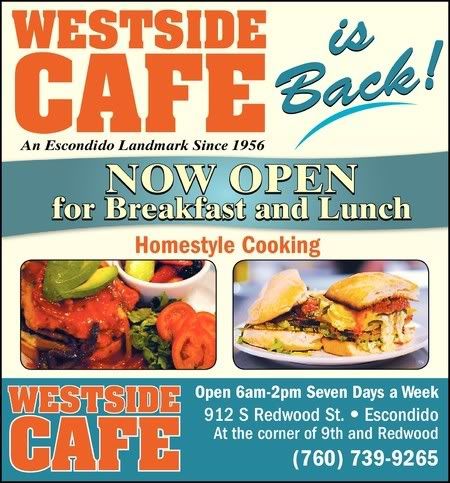 Loc: 912 South Redwood Street Escondido, CA 92025
912 South Redwood Street Escondido, CA, 92025
google map
|
yahoo map
• Location: San Diego, Escondido

• Post ID: 10909600 sandiego